eSATA ExpressCard/34 card for Mac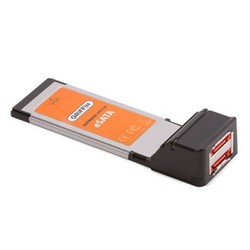 Griffin eSATA ExpressCard/34 card
The ExpressCard/34 slot on your MacBook Pro or ExpressCard-equipped notebook is the blazingly fast way to connect peripherals such as high-capacity external hard-drives to your computer.
More storage, more speed
Add two high-speed hard drives to your notebook and benefit from transmission speeds up to 375 MBps.
Features
Typical interface speed of 375 MBps is significantly faster than USB 2.0 or even Firewire 800
The card gets power from the ExpressCard/34 slot
You can plug or unplug connected drives without turning off your computer
Did you notice?
You can get transmission speeds of up to 375 MBps using this card in the ExpressCard/34 slot on your MacBook Pro.
Apple Recommends for...
Quickly giving your MacBook Pro two more high-speed connections for hard drives or other peripherals.
System requirements
Mac OS X v10.4 or v10.5; or Windows Vista/XP
What's in the box?
Griffin eSATA ExpressCard/34
Warranty
One Year Limited Warranty