G-TECH G-SPEED eS eSATA PCIe RAID Controller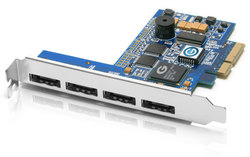 "I have a Mac G5 serial number CK538071RU0 I have just purchased a G tech external hard drive from you and wondered if you could inform me whether there is an adaptor that would be suitable to allow me to use the e sata interface?"
Unfortunately we are not able to find a card that works with the G5 at present.
To submit a question, you must hold an account with JustHarddrives.biz.
Please click here to log in.
Thank you.