LaCie 2big NAS (2-disk RAID) 0TB (Diskless)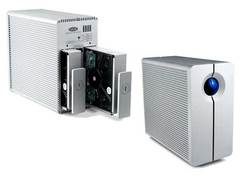 LaCie 2big NAS
Secure network storage for small business. Faster than ever.
Professional file sharing up to 100MB/s
Quick integration and user-friendly management
Complete backup solution for PC and Mac
Total protection with RAID 1 and hot swap
Design by Neil Poulton

Your business needs fast and secure professional network storage. It should let you back up multiple workstations and quickly share files, regardless of client operating system. Enter the LaCie 2big NAS: a complete backup solution that's easy to set up and with full security.
No-Sweat Setup and Management
From Problem to Solution in 10 Minutes.
Don't lose your cool wrestling with a NAS built for geeks. NAS novices, get up and running in 10 minutes with the 2big NAS, powered by LaCie NAS OS 2. Its convenient, web-based interface, the Dashboard, is user-friendly and provides easy access to powerful features. Wizards with presets make advanced tasks such as RAID management, users management, and NAS-to-NAS backups astonishingly easy. No IT degree required.


Seamless Network Integration
Mac, PC, Linux? No problem. The 2big NAS speaks all the necessary network languages. This makes it an excellent solution for an entire office, even if your sales force works on PCs and graphic design team uses Macs. Support for Active Directory means you can import existing users and groups with a click of the mouse. No more repetitive tasks.
Formidable Data Security. Simplified.
Complete Computer Backup Solution
The 2big NAS comes with everything you need to back up your office's computers. It includes three client licenses for Genie® Backup Manager Pro™ for Windows® and three licenses for Intego® Backup Manager Pro™ for Mac (additional licenses can be purchased online). Install the included software on computers to be backed up, or simply use Time Machine® or Windows 7 Backup. An employee accidentally deletes an important file or his hard drive fails? Restore it in seconds and get the employee back on track.
Related Products