LaCie 2big Thunderbolt Series (2-disk RAID) 8TB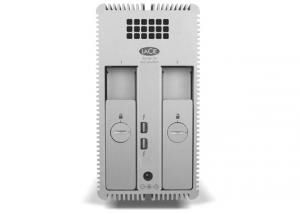 LaCie 2big
Thunderbolt™ Series
Thunderbolt Power. 2big Versatility and Capacity.
Shocking speeds up to 327MB/s
RAID flexibility: speed or security with Mac® OS
Dual Thunderbolt ports for daisy chaining
Two hot-swappable disks for non-stop
data access
Design by Neil Poulton
The Essential Professional Storage
With speeds up to three times faster than FireWire 800, LaCie 2big Thunderbolt Series also features RAID security, hot-swappable disks, and daisy chain convenience. Heavy data users can turbo charge their workflow with jaw-dropping speed improvements. And capacities up to 6TB* on 7200rpm hard disks deliver the professional storage they demand. Improve your workflow. Get huge data storage. Ensure full data protection.
Lightning Speeds Save Time
Transfer rates up to 327 MB/s**. More speed, more efficient workflow.
Backups take a fraction of the time, letting you back up more frequently.
Photographers using Lightroom® or Aperture® will notice significantly more responsive photo library browsing.
Videographers working in Final Cut Pro X® or other professional software can even stream multiple HD video streams directly from the drive.








Daisy Chain to Multiply Options
Thunderbolt technology is the most flexible interface ever created. With dual Thunderbolt ports on the 2big, you can daisy chain up to six Thunderbolt peripherals together. That means you don't need to buy a hub to connect multiple devices to a single Thunderbolt port on your computer. In addition, it increases the total amount of storage you can make available to your Mac.
Daisy chaining multiple 2bigs even pushes overall performance to more than 670MB/s** for your most data-intensive tasks. Thunderbolt technology is also mini-DisplayPort compatible. For example, you can connect a display and a 2big to your Mac via a single Thunderbolt cable. (Thunderbolt cables can be purchased separately).