LaCie 5big Thunderbolt (5-Bay RAID) 10TB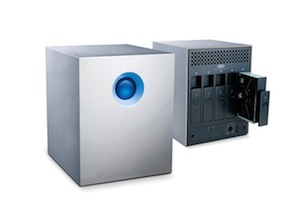 LaCie 5big
Thunderbolt™ Series
5-Bay RAID | Dual Thunderbolt

Thunderbolt Power. Massive 5big Capacity.
Shocking speeds up to 785MB/s
RAID 0, 1, and JBOD support with hot swap
Dual Thunderbolt ports for daisy chaining
Whisper-quiet dual cooling
Design by Neil Poulton
With 785MB/s*, immense five-disk capacity, and LaCie proven reliability, the 5big Thunderbolt Series is the perfect complement to a Thunderbolt-compatible computer for professional creative workflows. Thunderbolt power for today. Enough capacity for current and future projects.
More Speed, More Efficient Workflow
More speed means a leaner workflow. Get 785MB/s* thanks to five 7200rpm/64MB cache hard disks preconfigured in RAID 0. With these speeds, you have all you need for any post-production work. Handle multiple 2K uncompressed 10-bit streams. And with capacities up to 20TB, you have enough storage for today and the future. For example, you could store all your project's raw daily footage onto a single LaCie 5big. Focus on your creative projects without the hassle of managing multiple storage devices.
RAID Flexibility for Speed and Security
Thanks to its five disks, the LaCie 5big lets you custom-make RAID configurations for your precise needs. Create a lightning-fast volume with three disks in RAID 0, and a safe volume with two disks in RAID 1. Thanks to hot-swappable disks**, you can simply slide a new disk into the safe volume without switching off the device. Use the fast volume for use with Final Cut Pro X™, Adobe® Premiere®, or Aperture™, and the safe volume to back up your projects. No downtime, and no data loss. The LaCie 5big can also be used as a JBOD array. With five working days a week, you can assign each disk to a daily backup. Support for JBOD makes the LaCie 5big the ideal backup companion to your company's Mac Mini Server.

LaCie also offers the RAID Monitor software for this product. It alerts you when a disk needs maintenance, identifies which disk has failed, and helps you to resolve the issue.
Daisy Chain to Multiply Options
Thunderbolt technology is the most flexible interface ever created. With dual Thunderbolt ports on the LaCie 5big, you can daisy chain up to six Thunderbolt peripherals together. That means you don't need to buy a hub to connect multiple devices to a single Thunderbolt port on your computer. In addition, it increases the total amount of storage you can make available to your Mac. Thunderbolt technology is also mini-DisplayPort compatible. For example, you can connect a display and a LaCie 5big to your Mac via the included Thunderbolt cable.
Dual Cooling System for Long-Term Reliability
The LaCie 5big's advanced dual cooling system ensures long-term reliability by preventing overheating. The system consists of three key components: an innovative heat-dissipating aluminum casing, a Noctua® cooling fan, and jumbo heat exhausts. For the enclosure, its solid-aluminum heat sink design diverts and dissipates heat more efficiently than plastic casings. Its ultra-quiet Noctua NF-P12 fan pulls heat away from the internal components while producing exceptionally little noise. It also controls its speed according to temperature, which means that it works more efficiently while prolonging its lifespan. The LaCie 5big also has oversized air holes to facilitate airflow from the fan and reduce noise. All together, this ultra-quiet cooling system makes the LaCie 5big perfect for even the most noise-sensitive creative environments.