LaCie eSATA Hub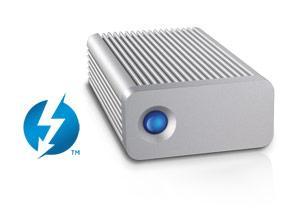 LaCie eSATA Hub
Thunderbolt™ Series
Give Your Storage a Thunderbolt Upgrade.
Connect eSATA drives to your new Mac
Get full speeds from eSATA drives
Daisy chain Thunderbolt devices
Connect eSATA Drives to New Macs
Better speeds, better value. With the eSATA Hub Thunderbolt Series, now you can connect eSATA drives
to your Thunderbolt-compatible Mac. Connect up to two drives to the Hub, which connects to the Thunderbolt port on your new Mac.

Unleashing Full eSATA Speeds
The ExpressCard/34 maximum bus speed is 2.5Gb/s, which limits eSATA 3Gb/s transfer speeds. The eSATA Hub clears this bottleneck, since Thunderbolt's 10Gb/s provides more than enough speed to accommodate 3Gb/s. Achieve the full speed potential of your eSATA drives.
Daisy Chain for Convenience
Thunderbolt technology supports daisy chaining, so you can connect a display or other Thunderbolt device to the eSATA Hub. This means you can connect, for example, your high-end LaCie 324i display and your eSATA Hub to your Mac via a single Thunderbolt cable. Thunderbolt technology also supports two channels – one dedicated for data, and the other for video – each with 10Gb/s of bandwidth. This means you can push and pull audio/video data without reducing bandwidth. Maximum convenience, minimum desktop clutter.
Related Products