LaCie Professional SATA II PCI Express Card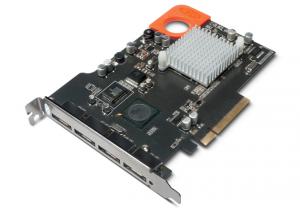 LaCie eSATA II PCI Express Card 3Gb/s – 4Ports


Professional eSATA Performance on Your Workstation
Add the new LaCie Professional SATA II PCI Express Card to your computer for instant connectivity and amazing performance with your eSATA peripherals. The LaCi
e Professional SATA II PCI Express Card features four external eSATA connectors, and can run at speeds of up to 3Gbits/s, making it the best interface choice for professionals who demand high speeds.
RAID for flexibility
By including four eSATA 3Gb/s ports, the LaCie Professional SATA II PCI Express Card can be used to combine up to four hard disks together with your computer to create a versatile and powerful RAID solution. For example, using the LaCie 4big Quadra, you can set up each hard disk in a hardware RAID 5 mode, then combine them together into a software RAID 0 mode (with the help of the host computer), making this configuration comparable to a RAID 50 array. This allows for enhanced disk failure protection, greater speeds of up to 700MB/s, and up to 24TB capacity (with four 8TB LaCie 4big Quadra each).