LaCie d2 USB3.0/Thunderbolt Hard Disk 3TB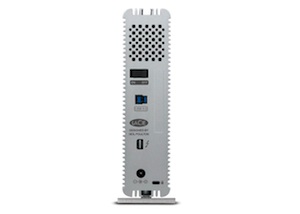 LaCie d2 USB 3.0
Thunderbolt™ Series
Built for Pros. Stunning Speed for All.
Universal connectivity with Thunderbolt and USB 3.0 ports
Shocking speeds up to 170MB/s*
Fan-free aluminum heat sink design
Data security with encryption
Design by Neil Poulton
Universal Connectivity
Don't let your project get derailed by external drive/computer incompatibility. With both USB 3.0 and Thunderbolt interfaces, the LaCie d2 is a perfect match for your Mac® and PC. And because USB 3.0 is backwards compatible, you can connect it to any standard computer on the planet. Its multiple interfaces make it the must-have sidekick to a new Mac or Ultrabook™.
No-Compromise Speed
Get lightning-fast transfer speeds on Mac and PC thanks to the USB 3.0 and Thunderbolt ports. It performs up to 170MB/s – that's twice as fast as FireWire 800 and more than four times as fast as USB 2.0. Back up and transfer mountains of data in a fraction of the time. Enjoy noticeably more responsive photo library browsing. Save time and get better performance when using A/V editing tools such as Avid Pro Tools®, Adobe Audition®, or Apple Final Cut Pro X®.
Advanced Cooling for Long-Term Reliability
Since effective cooling is a critical factor in hard disk reliability, LaCie completely redesigned its d2's cooling system. It's solid aluminum casing provides 60% more surface area than flat designs, diverting and dissipating heat more efficiently. Its innovative design means it stays cool without requiring a noise-producing fan. It also has more and larger air holes to facilitate airflow. This efficient and silent cooling system makes the LaCie d2 perfect for even the most noise-sensitive creative environments.