Promise SANLink 4Gb Fibre Channel to Thunderbolt Adapter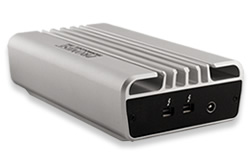 Promise SANLink 4Gb Fibre Channel to Thunderbolt Adapter
The PROMISE SANLink adapter ushers in a new generation of devices that take advantage of 10Gbps Thunderbolt technology recently introduced by Intel.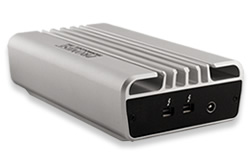 By using Thunderbolt technology enabled systems, SANLink provides dual 4G Fibre Channel connectivity connected to a Thunderbolt port.
A Storage Industry Breakthrough
PROMISE SANLink adapters introduce a new era in storage connectivity by allowing systems and devices on the SAN that never existed before. Taking advantage of the recently announced ThunderboltTM technology by Intel® and brought to the market by Apple®, PROMISE SANLink enables Fibre Channel connectivity to direct attached storage or to the SAN. Each SANLink adapter features full-duplex capable FC ports, that automatically detect connection speed, and can each independently operate at 1, 2 or 4Gbps.
Your MacBook Pro on a Fibre Channel SAN? No problem.
Never before have notebooks been able to connect via high-speed Fibre Channel and directly access the SAN. Thunderbolt technology enabled on every newly shipping MacBook Pro, has changed everything, simple SAN connectivity is now a reality using SANLink. Qualified for use with Mac OS X, SANLink requires zero software install and simply works out of the box with full hot-plug capability. No longer is your Macbook Pro locked out of the SAN. or are you limited to having to use a system with a PCIe slot for a Fibre Channel HBA card. You can now take high-speed Fibre Channel SAN access and bandwidth gobbling applications such as non-linear editing of high definition media to places never before, like your notebook or any other Thunderbolt enabled system.
SANLink and VTrak storage subsystems.
SANLink is the perfect companion for any Fibre Channel SAN Infrastructure. The dual ports offer more than enough performance to edit video just as you would on your favorite Mac Pro workstation, supporting multiple simultaneous uncompressed HD streams. Delivering rock solid compatibility with PROMISE VTrak for Mac OS X RAID subsystems, SANLink works with both the VTrak x10 and x30 series storage providing a powerful connectivity solution with years of service into the future.
Fully Qualified Mac OS X, Xsan and Final Cut Pro Solution.
Like VTrak storage subsystems, SANLink is fully qualified for Mac OS X, Xsan and Final Cut Pro solutions providing creative media professionals opportunity to edit like never before.