LaCie 2big Quadra (2-disk RAID) 4TB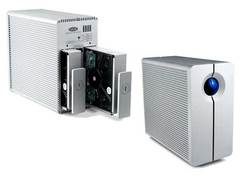 LaCie 2big Quadra
2-Bay RAID I eSATA 3Gb/s |Hi-Speed USB 2.0 I FireWire 400 & 800
4TB
Ideal for backup and creative pros: up to 165MB/s
Four RAID modes to customize speed and protection
Two hot-swappable disks for non-stop data access*
Aluminum heat sink design for greater reliability
Mac: Time Machine® Compatible
Design by Neil Poulton

The LaCie 2big Quadra is the most complete 2-disk RAID solution for digital libraries, creative pro and office workstations that need storage/backup capacity, speed, and advanced data protection. It's easy to use, and comes with two extractable, lockable and hot-swappable disks in RAID 1 mode. With burst transfer rates as high as 165MB/s** (eSATA 3Gb/s) in RAID 0, the 2big Quadra is ideal for high speed-demanding applications like audio/video projects (DV and SD video playback or 2D/3D imaging). It functions as a complete solution for data protection, and comes with advanced backup software with computer recovery options: Genie Backup Manager Pro™ for Windows® and Intego Backup Manager Pro™ for Mac® users. The sturdy, aluminum heat sink design—with 60% more surface area for heat dissipation—keeps it quiet and safe. This versatile solution offers various space-saving configurations—upright, horizontal, stacked, or rack-mounted. The LaCie Shortcut Button on the front launches any backup or library application of your choice in just one push.***

For the fastest speeds and most optimal performance, we recommend purchasing the LaCie eSATA II PCI Express Card 3Gb/s – 4Ports for use in tandem with the LaCie 2big Quadra.
Related Products