Promise Pegasus R6, 6-Bay Thunderbolt I/O 18TB Desktop RAID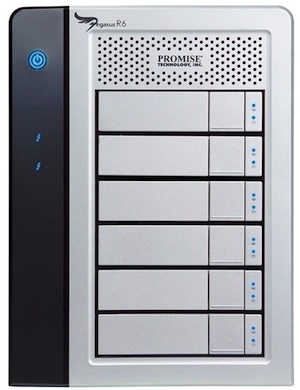 Promise Pegasus R6, 6-Bay Thunderbolt I/O 18TB Desktop RAID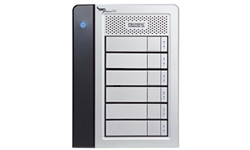 Pegasus R4 is the First 4-bay and 6-bay High Performance Hardware RAID Solutions designed to unleash the raw power of Thunderbolt™ technology.
Thunderbolt technology is a new, high-speed, dual-protocol I/O technology designed for performance, simplicity, and flexibility. This high-speed I/O technology is capable of delivering a blistering two channels of 10 Gb/s (1.25GB/s) per port of performance.




Lightning Fast Performance
With I/O rates of over 800 MB/s, Pegasus delivers a massive and unprecedented leap in performance, allowing amateur professionals, audio engineers, photographers, and post production engineers, to unleash the raw power of Pegasus, enabled with Thunderbolt Technology. Final Cut professionals can ingest, edit, and playback, multiple streams of uncompressed HD (8-bit and 10-bit) video, while protecting valuable workflows, audio sessions, and other creative media content, with PROMISE's award winning, enterprise level, RAID6 engine (features mature error handling schemes for the ultimate in data protection). Graphic artists utilizing Photoshop and Maya 3D animation can both manipulate and archive high resolution graphics on Pegasus, with relative ease and lightning fast responsiveness.
Flexible Connectivity
The multi-protocol support of Thunderbolt Technology enables Pegasus to deliver amazing flexibility. Daisy-chain more than one Pegasus enclosures to a single Thunderbolt technology port or connect a display to Pegasus for the ultimate in convenience and interface connectivity.
Fast, Safe and Reliable
Digital Media consumption is growing at an astonishing rate, and is part of everyone's life. Featuring, two, high performance, 10Gb/s bi-directional channels, and PROMISE enterprise-level RAID 6 protection, Pegasus provides fast, safe, and reliable external storage, essential for protecting your music, photos, videos, and other valuable data. Pegasus provides massive storage, and fast performance for popular applications, including Final Cut Pro, Garageband, iTunes, iPhoto, and Photoshop. Pegasus can be used, in conjunction with Apple's Time Machine utility (in Mac OS X), to store backups of invaluable digital media, documents, or an entire computer (or workstation).
Easy to Use
Pegasus comes pre-configured out of the box. Simply unpack, supply power, and connect the Thunderbolt cable (currently, only available from Apple) to the Thunderbolt port on your computer, and you will be ready to either ingest/edit production video, or store all your important documents, music, photos, and videos. Management of Pegasus is made possible through an easy to use, all new, made-for-Mac OS X GUI utility.
One More Thing, Eco-Friendly.
Pegasus is RoHS compliant; in simple terms Pegasus is eco-friendly, keeping harmful lead out of the environment and our delicate ecosystems. Consuming a mere 78 watts under full load with six hard drives installed, Pegasus uses roughly 26% of the power consumed by the average 300 watt power supply in standard computers. Sporting a new enclosure design, an 80Plus power supply and a smart cooling fan, system noise is never an issue making Pegasus ideal for desktop, small office environments and or any room in the home.
Related Products